Parking Guidance System
ParkSol is driver information and parking guidance system which is designed to improve the management of car parks and end user (customer) services. It eases search and reservation of parking spaces, resulting in significant time and energy saving. ParkSol has huge positive impact on customer satisfaction and marketable reputation as convenient-comfort parking.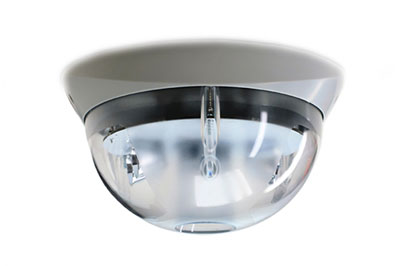 Ultrasonic sensor with indication
The ultrasonic sensor is designed for mounting on ceiling or cable channel. The sensor detects and transmits parking space availability infonnatlon on real-time to ParkSol system. The system represents number of free parking spaces on LED screens. ParkSol sensor is designed with IP66 protection class and withstands extreme cold or hot temperatures. All ParkSol sensors have the digital signal processing (DSP),adaptive sensitivity and temperature compensation functions. They have flash wave energy saving function as well.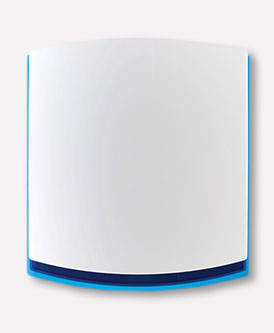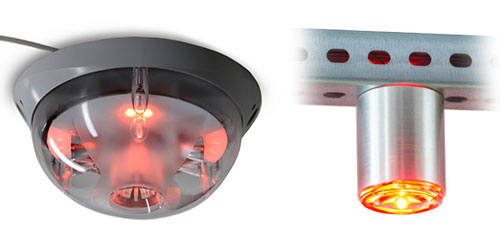 Remote indicator
ParkSol remote indicator is mounting together with the ultrasonic sensor.It is designed for Installation in the front of every parking space to display current status of parking spot occupancy.The indicator has reflective optic, which ensure good visibility from long distance even in brightly-lit or frog-filled parking lot. ParkSol produce two types of indicators: standard and ECO. The indicator ECO is economic and has 360 degrees horizontal view optics. Indications options: red/green, red/blue, green.
Wireless magnetic sensor
Wireless magnetic sensor is designed for installation on street and detection of the parking space availability.The installation is easy and cost-effective: sensors are screwed in/on the asphalt or other road pavement. The sensor responds to changes in the earth's magnetic field change when a vehicle is parked above it. The sensor transmits parking space availability information on real-time to ParkSol monitoring software. Wireless magnetic sensor Is designed with IP67 protection class what enables classic winter service,including snow-plowing. Battery duration is up to 10 years and its easy exchangeable.
LED display
ParkSol LED display shows direction and amount of free parking spaces. LED display installation, configuration and maintenance are easy and cost-effective. ParkSol produce two types of displays: standard and indoor. LED display is Ethernet base, weather proof, has arrow blinking function and modular construction. Wi-Fi realization and custom solutions are available. Additionally, it can be integrated into road signs, large pylons etc. ParkSol indoor LED display is adopted for parking garages with low humidity level. Indoor LED display is economical solution and has high resolution with two rows bright LEDs.
Zone controller
The controller PCL/ZC is designed for the real-time monitoring of ParkSol sensors parameters. The sensors are connected via the RS 485 Interface. The circuit may have up to 124 magnetic or ultrasonic sensors. Controllers are interconnected over a 100 Mbit network.The device operates as a separate 3-port hub,so they can be connected in series, one after the other.The controller has 8 freely programmable inputs and 7 outputs and can be connected to the other parking control systems. The PLC/CC modification has a car-counting function.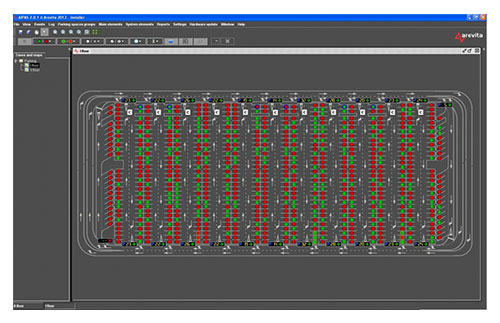 Monitoring software
ParkSol monitoring software ensures the most efficient usage and management of parking lot. It allows to control parking load and reduces traffic jams. The software instantly transmits information of available parking spaces to LED displays and detects illegally parked vehicles. It enables real-time monitoring of the parking status (availability, temperature changes) and control of parking places (reservations, timing etc.). The software is developed using client-server architecture and supports multiple clients. It can be installed into the user's existing systems or in a separate server. Additionally, ParkSol monitoring software can be integrated with the third party systems(barriers, lighting, ventilation etc.).